Safety Committee Charter
SAFETY COMMITTEE
Indocement Safety Committee (I-SC) is established by the Board of Directors as a form of the Company's commitment to managing occupational safety. The Safety Committee is under the supervision of the Board of Directors, with the main objective to determine strategies to prevent occupational accidents and diseases, to support and ensure that the strategy, initiation, and occupational health and safety programs in all activities of the Company are well implemented.
LEGAL BASIS
Law of the Republic of Indonesia Number 13 of 2003 concerning employment mandates the obligation to protect occupational safety and health through the implementation of an occupational health and safety management system that is integrated with the company's management system.
Law of the Republic of Indonesia Number 1 of 1970 concerning occupational safety mandates the obligation to fulfill safety requirements, guidance as an effort to prevent accidents and fires as well as the establishment of an Occupational Safety and Health Development committee.
Government Regulation Number 50 of 2012 concerning Guidelines for Implementing Occupational Safety and Health Management System (SMK3).
HeidelbergCement Group occupational health and safety guidelines.
Safety Committee Duties and Responsibilities
Preparing direction and formulating effective strategies and action plans that can be applied between the
management lines;
Preparing a harmonious safety system, and aligning goals and targets, to oversee the organization;
Encouraging enthusiasm and a uniform culture in improving safety performance in line with the group
safety goals;
Providing necessary support for the management lines to ensure the implementation of the Company's
extensive safety improvement program;
Overseeing overall safety performance and determining opportunities for refinement.
Security Committee Term of Service
Membership and tenure Committee are attached to the position held, so there is no time limit on membership in the Committee.
Safety Committee Meetings
The Safety Committee must conduct meetings at least four times in a year. Throughout 2021, the Safety Committee held four meetings with details as follows: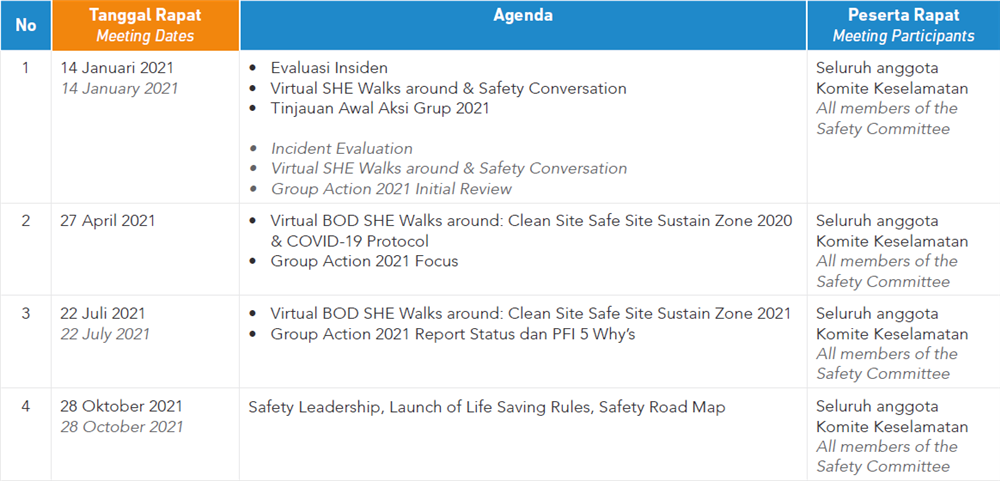 DUTY IMPLEMENTATION REPORTDuties implemented by the Safety Committee during 2021
were as follows:
Held meetings for four times;
Conducted HSSE Observations by the Board of Directors at all Company's operational units for four times (two times on-site, two times virtual);
Evaluated the Clean Site/Safe Site Initiative Program;
Conducted the Safety Conversation Program for 176 times in 2021;
Evaluated OHS performance and all occurring incidents;
Evaluated Managing High Risk (MHR) Program;
Evaluated Transporter OHS Facilities;
Evaluated the Accident Prevention Facility on Cyclone (Safety Net Project);
Evaluated Transporter OHS Performance.