Corporate Secretary is the Board of Directors' supporting organ that functions as a liaison between the Company and regulators, shareholders, and other stakeholders. The Corporate Secretary is also in charge of ensuring that the Company's business activities are in accordance with the prevailing laws and regulations, particularly in the capital market.
LEGAL BASIS
OJK Regulation No. 35/POJK.04/2014 dated 8 December 2014, on Corporate Secretary of Issuers;
Decision of Board of Directors of PT Bursa Efek Jakarta No. Kep-00001/BEI/01-2014 dated 20 January 2004, (Changes of Regulation No. I-A on Listing of Shares and Equity Securities Other Than Shares that are Issued by the Listed Company);
Decision Letter of Board of Directors No. 003/Peng/CSD-Dir/ITP/XII/2016 dated 5 December 2016.
PARTY APPOINTING AND DISMISSING THE CORPORATE SECRETARY
The Corporate Secretary is directly responsible to the Board of Directors and is appointed and dismissed based on the Board of Directors' Decisions. The appointment of the Corporate Secretary considers the professional ability and integrity in the community and business.

CORPORATE SECRETARY CRITERIA
OJK Regulation No. 35/POJK.04/2014, Article 9, states that the Corporate Secretary must at least meet the following requirements:
Have proficiency in performing legal actions;
Have knowledge and understanding in the fields of law, finance, and corporate governance;
Understand the business activities of the issuer or public company;
Can communicate well; and
Domiciled in Indonesia.
Indocement's Corporate Secretary has fulfilled all of these requirements.
ORGANIZATION OF CORPORATE SECRETARY
The position of Corporate Secretary is under the President Director. The functions of Indocement's Corporate Secretary are currently executed by one of the Directors. The implementation is assisted by the Corporate Legal, Communication, and General Affairs Division. Therefore, the Organizational Structure can be seen as follows: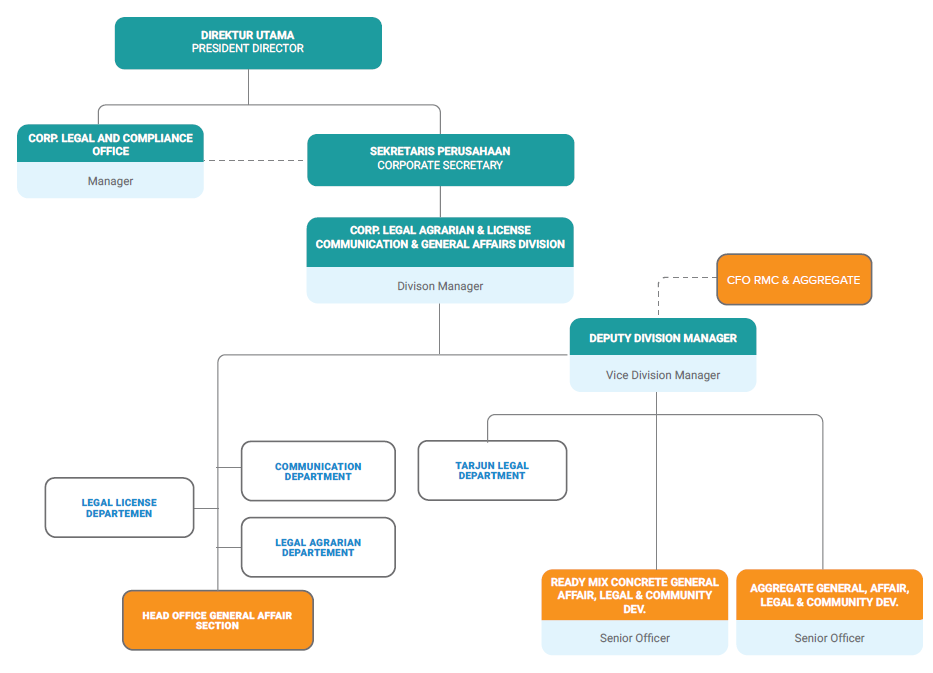 FUNCTIONS, DUTIES, AND RESPONSIBILITIES OF CORPORATE SECRETARY
OJK Regulation No. 35/POJK.04/2014 states that the functions, duties, and responsibilities of Corporate Secretary are to at least execute the following duties:
Following Capital Market development, in particular the applicable laws and regulations in Capital Market sector;
Providing awareness to the Board of Directors and Board of Commissioners by ensuring compliance with the provisions of Capital Market laws and regulations;
Assisting the Board of Directors and Board of Commissioners in implementing corporate governance that includes:
a. Disclosure of information to the public, including the availability of information on the Company's website;
b. Submitting reports to the Financial Services Authority in a timely manner;
c. Convening and documenting the General Meeting of Shareholders;
d. Organizing and documenting meetings of Board of Directors and/or Board of Commissioners; and
e. Implementing the orientation program for the Company's Board of Directors and/or Board of Commissioners.
As a liaison between Company and Company's shareholders, Financial Services Authority, and other Stakeholders.
CORPORATE SECRETARY'S DUTY IMPLEMENTATION IN 2022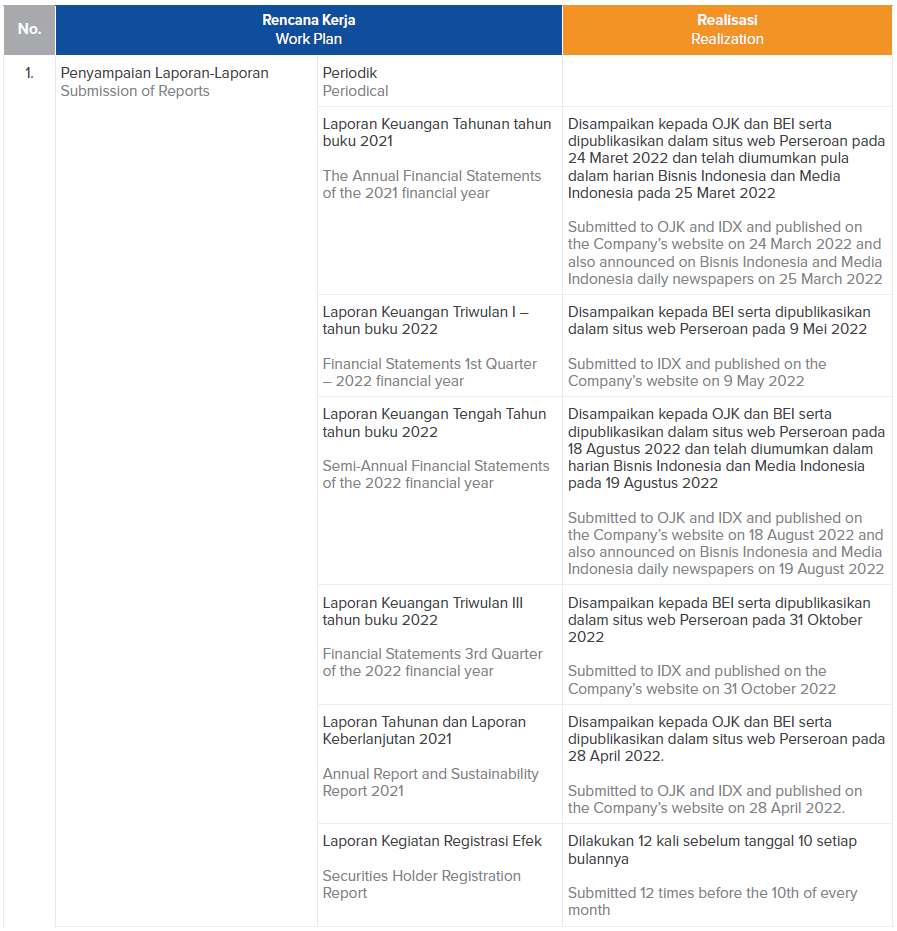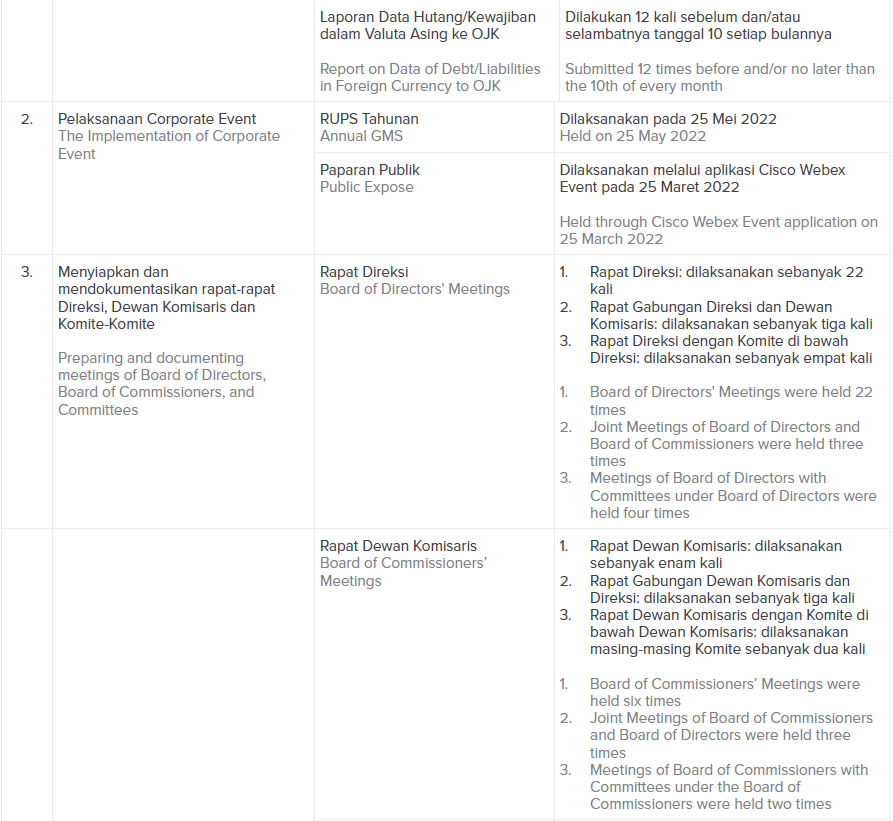 COMPETENCE DEVELOPMENT PROGRAM OF CORPORATE SECRETARY
In 2022, the Corporate Secretary has participated in various competency development programs, most of which are conducted online.