Careers
Informasi Lowongan Kerja November 2023
Indocement membuka beberapa lowongan kerja pada Desember 2023, berikut ini informasinya:
Job Title
Warehouse Leader
Placement

PT Multi Bangun Galaxy
an Indocement's Subsidiary

Requirements

Minimum Diploma Degree (D3) in Logistic, Administration, Management, Logistic Management, Distribution Management, Supply Chain, or other majors related to Warehousing Management

Preferably having experience as a Warehouse Administator

Willing to be placed in Sukabumi, Garut, Pemalang, Brebes, Pandeglang, Tasikmalaya, or Palimanan

Good in operating Ms. Office (Excel, Power Point, Word)

Willing to be contracted under Subsidiary of PT Indocement Tunggal Prakarsa Tbk.

Registration Link
Linkedin
Deadline
1 December 2023
Job Title
E-commerce Analyst
Placement

PT Dian Abadi Perkasa
an Indocement's Subsidiary

Requirements

Bachelor's degree in IT, Industrial Engineering, Business, or Management with minimun GPA 3.00 from reputable university
Preferably has experience on handling business process, system Analyst, sales process, and project management
Fresh graduate or one year experience in related field
Fluent in bahasa Indonesia and English
Willing to be contracted under Indocement subsidiary

Registration Link
Linkedin
Deadline
1 December 2023
===
Indocement Recruitment


Management Trainee 2023
Together We Build Nation and Greener Future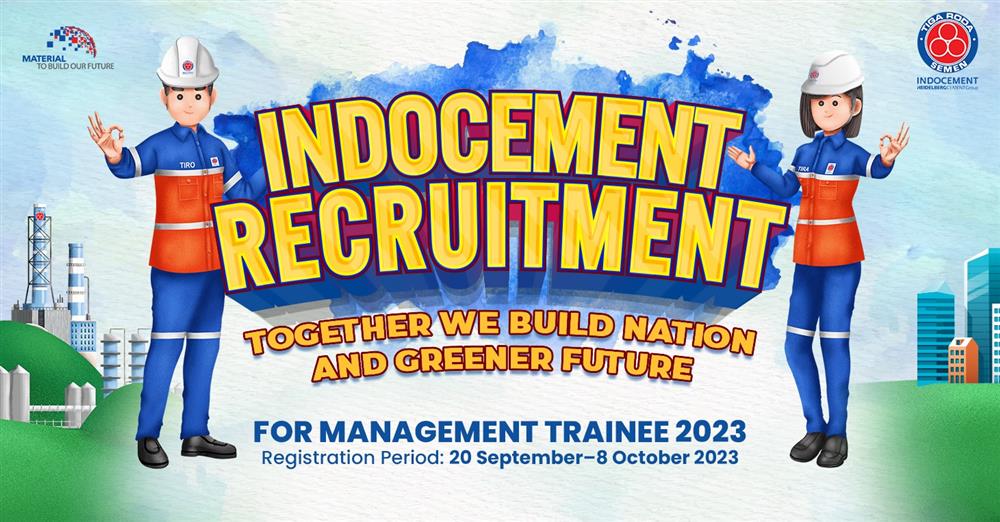 Indocement membuka program Management Trainee (MT) 2023 sebagai platform untuk mengembangkan dan mendidik talenta muda menjadi future leader di Indocement. Peserta MT Indocement akan belajar langsung dari karyawan Indocement yang berpengalaman untuk mengembangkan keahlian teknik, serta pembelajaran mengenai kemampuan kepemimpinan untuk menghadapi tantangan global.
Pengumuman Seleksi Lanjutan Program MT Indocement 2023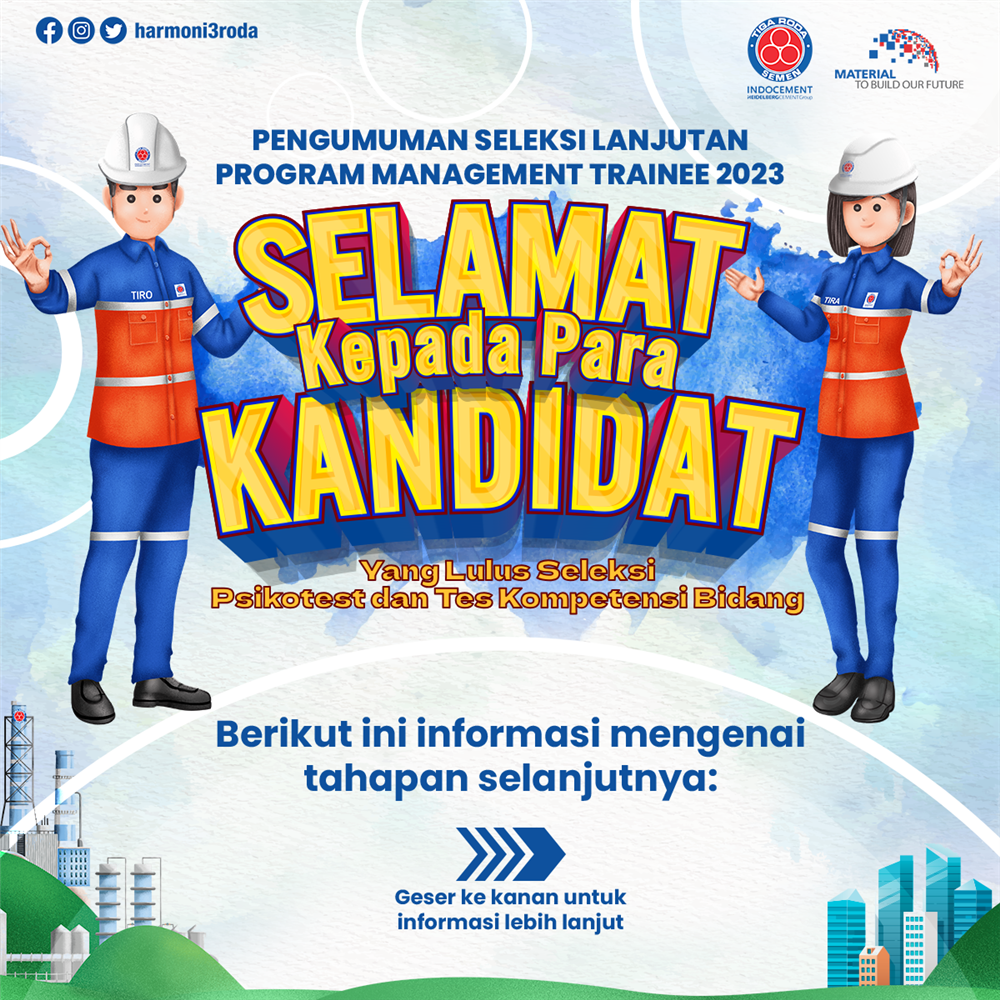 Selamat Kepada Para Kandidat Yang Lulus Seleksi Interview and Leaderless Group Discussion Management Trainee 2023
Berikut ini adalah informasi mengenai tahapan selanjutnya:
HR and User Interview
24 November s.d 1 Desember 2023
Pantau terus inbox email kamu dan/atau nomor Whatsapp yang kamu daftarkan!, informasi akan mulai dikirim pada 22 November 2023.
Informasi mengenai pemanggilan kandidat yang lulus dan pemberitahuan skema test serta narahubung akan dikirimkan oleh EEC selaku mitra proses seleksi Indocement melalui alamat email "noreply@ecc.co.id"
Kepada kandidat yang tidak menerima panggilan, kami ucapakan Terima Kasih atas partisipasinya, sampai jumpa pada kesempatan selanjutnya!
Hati-hati terhadap segala macam bentuk penipuan yang mengatasnamakan PT Indocement Tunggal Prakarsa Tbk.
Segala proses dari rekrutmen ini tidak dipungut biaya apapun!
Informasi resmi hanya dipublikasikan di sosial media @Harmoni3roda dan situs web www.indocement.co.id/karier